2020 has been a year to remember for all of us, and everyone is hoping 2021 brings positive changes.   We find ourselves reflecting on the months since reopening the Kalamazoo House this summer, but first we have an exciting announcement to make about one positive change taking place right now.
A Warm Hello …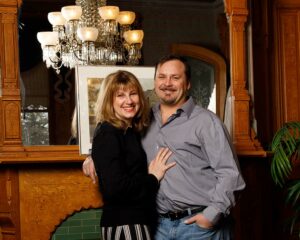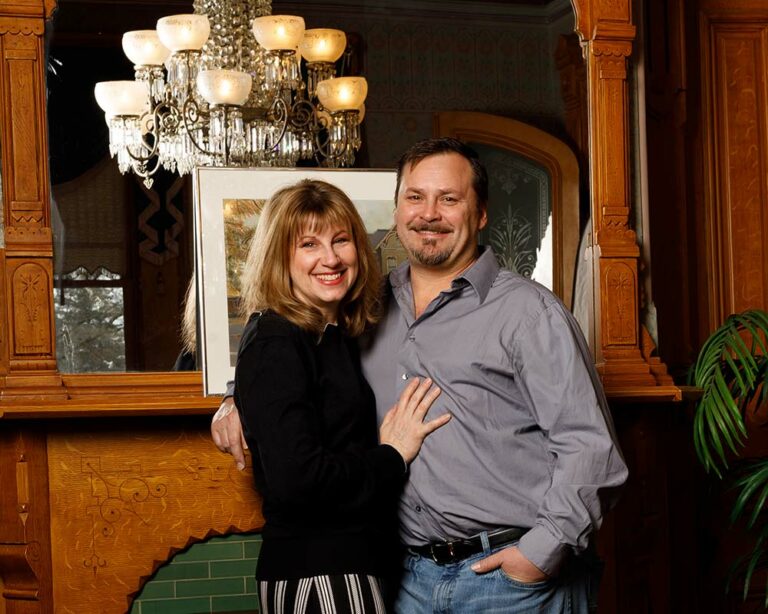 We've always considered ourselves caretakers here.… motivated to take good care of the guests who choose to stay here and to preserve and build on the legacy of all the owners who've come before us.  And now [drum roll please] we're delighted to introduce the new Owners/Innkeepers of the Kalamazoo House….Amy and Jeff Luce.
After three years at the helm of the successful and well-respected Mason Cottage Bed & Breakfast on the Jersey shore, Amy and Jeff jumped at the chance to return to their Midwestern roots — she's originally from Dearborn, Michigan, and he hails from Elyria, Ohio.    They fell in love with the house and with Kalamazoo as soon as they visited, and they are eager to dive headfirst into both.
Guests will be delighted to know that Amy is a Pastry Chef with a long history in food, and she particularly loves to create new recipes.  She can't wait to get started in this kitchen and we can only imagine the new delights she'll whip up.  She also enjoys all things gardening, from flowers to herbs, so look for our small garden spaces to overflow this year!  Jeff brings business acumen and has a passion for woodworking—and he's also a cocktail enthusiast and avid golfer.   [Unfortunately, he misguidedly bleeds Buckeye red, but we fully expect many Michiganders to try to help him see the light!]
A few years ago, both Amy and Jeff left what had become unfulfilling jobs in corporate America to seek a more satisfying lifestyle, and they found it.  They believe that making an imprint on something bigger than themselves counts the most, and for them there is no better way to do this than being Innkeepers.  Kalamazoo House guests will be in good hands.
 And now a Grateful Goodbye …
Six months ago we came out of our Arizona retirement wondering if it was crazy to reopen the Kalamazoo House during a pandemic.   Would enough people be traveling so we'd be able to keep the doors open?  Could we stay safe—and could we safeguard our guests?  Would we even be able to fit back into the innkeeper lifestyle after over 5 years away? We started with lots of misgivings and trepidations and breath-holding.   And we discovered we actually could relax and exhale:
* We've loved welcoming guests to this lovely house in this lovely city again.  We've met new friends and renewed acquaintances with more repeat guests than we ever could have expected.  Terry discovered that besides cooking delicious breakfast entrees, he loves baking bread for people.  Laurel discovered how much she has missed setting beautiful tables in the morning, and learning from new people every day.  And we've both rekindled our love affair with this special city.
* We've been honored and humbled by the trust people have placed in the Kalamazoo House to provide a haven from the storms of 2020.   People who've barely left their own homes since Springtime have trusted the Kalamazoo House for an overdue outing.  We've welcomed teachers and health care workers taking much needed breaks from work that never seems to end, a writer looking for peace and quiet, travelers seeking a small and personal lodging where they felt safe, and parents ruefully admitting they simply needed a relaxing getaway from their kids who've been schooling or working from home for months.
* We've discovered that for the lucky among us, even in 2020 the world continues to spin—-carefully, and surely a bit differently than before the virus.  Masked and socially-distanced, folks visit Kalamazoo as always for the excellent beer and interesting food.  Parents have moved their kids to campus even though classes are virtual.   Visitors still come to enjoy the Gilmore Car Museum, the Air Zoo, the Kalamazoo Institute of Arts and to enjoy the downtown shops—and some intrepid souls still travel on business.  Countless couples have celebrated their engagements, honeymoons or anniversaries in these few months, and just a couple of weeks ago we were honored to serve as witnesses in our Parlor for the smallest (and one of the most joyous) weddings we've ever had here.
* And we've remembered how much we love this place.  There's a pull this house exerts.  We feel it.  Former owners have felt it while they have each put their indelible stamp on it.  Our guests feel it too.  After all, they've chosen to pass by the roadside motel or the corporate hotel to experience something smaller, more intimate, more authentic…a place where they can feel a sense of history while being fully engaged in the best of the modern world, where they can feel genuinely cared for, and where they can connect, when they choose to, with other interesting people.
So this is a fond goodbye from Laurel and Terry, and a warm hello from Amy and Jeff.   If we are especially lucky, the Luces will ask us to come back and fill in for them someday when they want to take a vacation.  How nice it would be to experience the magic of this wonderful city and to welcome guests to this exceptional house yet again!  We'll cherish the memories of these last six months as we wish the new Innkeepers the very best of success.  Amy and Jeff are bringing the energy, experience, enthusiasm and all the mad skills to continue the Kalamazoo House's excellence, and we know they'll bring exciting improvements as well.  Please join us in welcoming them—and plan to come visit soon and let them serve you.
Cheers to Amy and Jeff…..a heartfelt thanks to our cherished guests…
"Long Live the Kalamazoo House".
Laurel and Terry Parrott — December 15, 2020