Bed and Breakfast Guest Rooms
You'll find a beautiful room that is just right for you at the Kalamazoo House Bed and Breakfast. Are you looking for a jetted tub? A fireplace? A desk? There is a perfect room for you here.
ALL rooms are provided with free parking; complimentary 2-course gourmet sit down served breakfast; high-speed Wi-Fi; flat-screen HD TV, DVD, and Amazon Echos; luxury linens and bath amenities; warm silky robes; modern heat and AC; and ensuite private bathroom.
Note: two-night weekend minimum stay may apply. Check availability for specific dates; the house involves numerous stairs with no elevator. Rooms: Battle Creek, Lansing, Kalamazoo, Mackinac, and Marquette are on the second (2nd) floor. Grand Rapids, Detroit, Traverse City, Holland, and Muskegon are on the third (3rd) floor.
For real-time rates, availabilities, and other details, please click on the Reservations tab.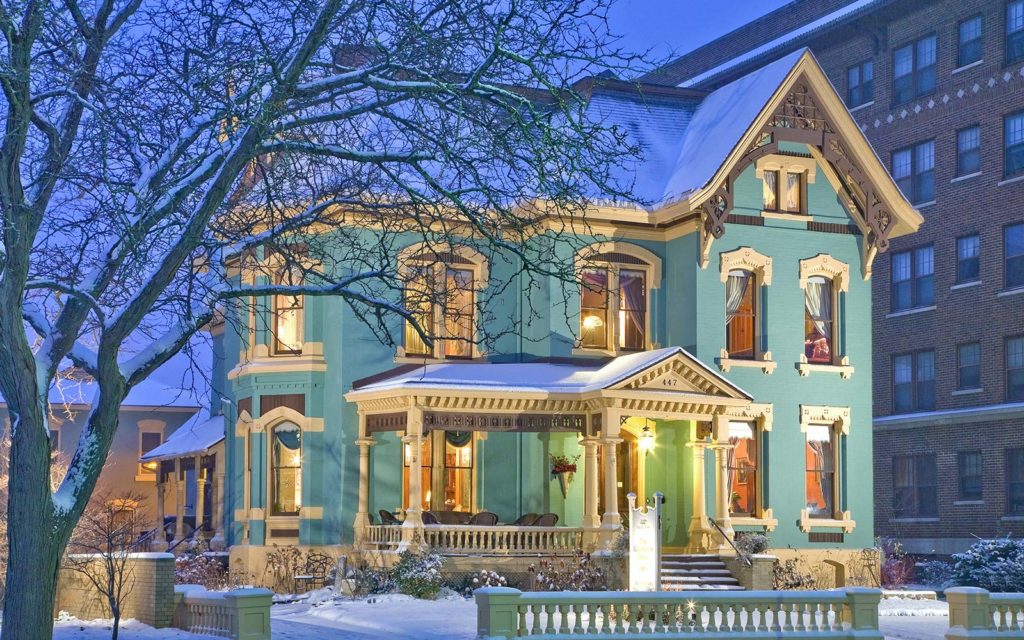 A snowy evening in Kalamazoo.
The private ensuite bathroom has a beautiful large black jetted air tub, perfect for the both of you to sit back and relax. A separate walk-in tiled shower is next to the jetted tub. Sink into the comfortable new pillow-top King bed and enjoy the romance of the firelight from the electric fireplace. This room is the home's original 2nd-floor master bedroom of David and Amelia Lilienfeld and features a stunning view of the Chihuly glass sculpture in the museum next door.
A truly private retreat, this large and elegant room is ideal for decompressing. You'll feel like a royal when staying in this room its a beautifully decorated room with a comfortable new pillow-top King bed and two tall back chairs with a view of the Chihuly glass sculpture in the museum next door. Features a large bathroom with a deep whirlpool for two, a separate shower, as well as a luxurious make-up desk, sure to please any diva—you'll never want to leave.
Lansing is a quiet and cozy room with upgraded furnishings and a new comfortable King bed. A cheery electric fireplace, and a good-sized work desk and chair. Perfect for the business traveler or those couples who want an intimate atmosphere. There's even a full-size dresser making the room ideal for long-term stays. Ask about our Kalamazoo BizClub Membership.
This beautifully redecorated King bedroom is a peaceful and contemporary retreat. The vaulted ceiling gives a nice airy feeling to the room and its complementary dark bamboo floors. The Detroit Room, with its modern furnishings, work desk, and sleek electric in-wall fireplace with crystals make this a unique room. Business travelers find this a great room. 
We get a lot of compliments on the comfortability of this Queen bed. The Marquette room offers a relaxing recliner chair perfect for nestling with a good book and enjoying the warmth of the electric fireplace across from it. The vintage work desk is still an ideal workspace for our modern-day devices. The ensuite offers a nicely-tiled walk-in shower and a large vanity. This is a popular room for our Business travelers.
You will love this large room for its incredibly comfortable King bed, romantic electric fireplace, the additional space for the two cozy chairs plus, a vintage secretary desk. A unique bathroom with a tub/shower and large vanity. Traverse City provides quietness and spaciousness that everyone loves.
A stunning and amazingly comfortable room! Mackinac is a big beautiful room featuring a lovely four-poster King bed, the ultimate in comfort and luxury. Plus, a large electric fireplace and vintage secretary desk for those who may have work to do. 
Double bonus, enjoy the (single) jetted tub/shower in the bath. 
The Holland is a serene space recently decorated in contemporary tones of blue-green and chocolate with beautiful bamboo flooring. A deluxe Queen bed with a romantic electric fireplace makes this room a discreet retreat. It features a large bathroom and an opulent soaking tub with a rain shower. 
Battle Creek is as charming and popular as its name's sake. This dainty room features a lovely Queen bed, craftsman style dresser with plenty of drawers, and a private bathroom. You are sure to have a cozy and restful night's sleep. Business travelers give this room two (2) thumbs up. 
This petite and quiet room is outfitted in a distinctive antique red-hue which gives a warm and homey feel. Muskegon features a Queen bed, large dresser, work desk, and an upholstered chair—the perfect place to relax and read a book. This room tends to be a favorite with many repeat guests and business travelers.
| | | | | | |
| --- | --- | --- | --- | --- | --- |
| | | | | | |
| | | | | | Large Single Whirlpool Tub |
| | | | | Private Bath, Tub &Shower | |
| | | | | Private Bath, Tub & Shower | |
| | | | | | |
| | | | | Private Bath, Tub & Shower | |
| | | | | Private Bath with shower over whirlpool | |
| | | | | Private Bath, Soaking Tub & Rain Shower | |
| | | | | Private Bath, Tub & Shower | |
| | | | | Private Bath, Tub & Shower | |